Overview
Davenport, Iowa's third-largest city, holds its place in American transportation history as the first railroad bridge across the Mississippi River was constructed there in 1856. Forty years later the Government Bridge, a dual railroad/highway bridge, was constructed in its place between downtown Davenport and the Rock Island Arsenal. The Government Bridge, which is frequently referred to as the "Arsenal Bridge" by locals, remains in use today after more than a century. For many years the Government Bridge was the only crossing in the "Tri-Cities", as Davenport and the Illinois cities of Rock Island and Moline were referred to at the time.

As automobile transportation evolved in the early 20th century, Davenport found itself on auto trails including the Great White Way (Iowa's first registered trail), the River-to-River Road, the Mississippi Valley Highway, and the Black Hawk Trail (which County Road F51 north of the city is still known as). The numbering of highways in 1920 brought the cross-state IA 2 (the Great White Way) and IA 7 (the River-to-River Road) through Davenport; both IA 2 and IA 7 crossed the Government Bridge into Rock Island. Other early highways included IA 20, a major north-south road through eastern Iowa; IA 74, an alternate route to Iowa City via Tipton; and IA 99, a riverfront road from downtown Davenport through the young city of Bettendorf (which incorporated in 1903) to Clinton.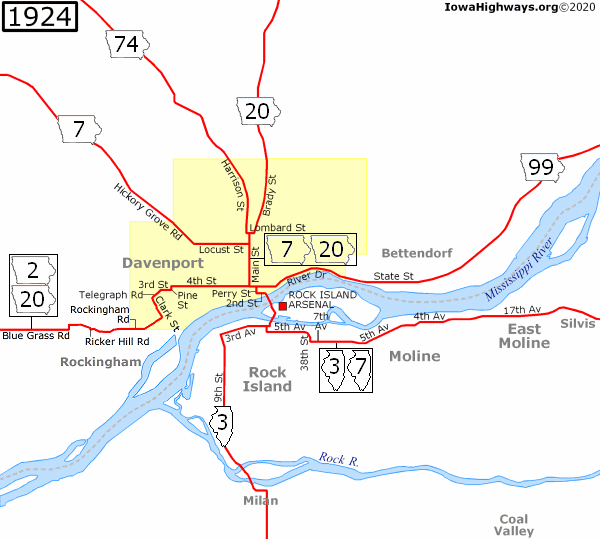 By the end of 1924, IA 122 was designated along "Division Street Road" (utilizing part of what is now Pine Street and Cheyenne Avenue) and IA 20 was routed along a new riverfront road between Davenport and Muscatine via Buffalo. While most of Iowa was "in the mud" during this time, most of Scott County's primary roads were paved by the end of 1926.

Iowa finished signing its share of the US highway system on October 16, 1926, but Davenport had only two US highways to start with: US 32, replacing IA 7, and US 61, replacing IA 20. IA 22 replaced IA 2 west of Davenport. Of the highways that existed in 1927, only US 61 and IA 22 serve Davenport today.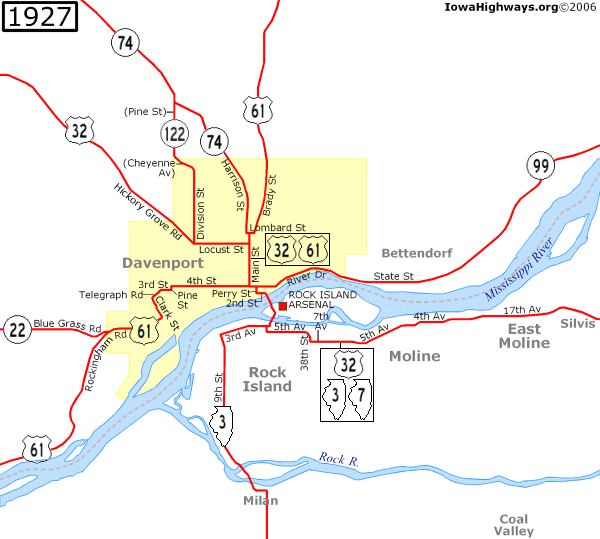 During the early 1930s Iowa was getting "out of the mud," and by the end of 1930, US 32 was continuously paved from Davenport to Iowa City. A year later, as paving of US 32 across Iowa was nearing completion, the American Association of State Highway Officials agreed to extend US 6 from Erie, PA, to Greeley, CO, and in the process US 32 through Davenport and the rest of Iowa became US 6. (US 32 remained on the Illinois side of the Mississippi, maintaining a single-numbered route between Rock Island and Chicago, until 1934.) US 6 continued to follow the same city street alignment that US 32 followed through Davenport.

In August of 1930, IA 99 between Davenport and Clinton was replaced by an extension of US 55 along the Mississippi south of Dubuque even though the missing piece in Jackson and Dubuque counties would not be finished until 1932. US 67 had been extended to Rock Island by 1931, and on February 15, 1935, US 67 was extended to follow US 6 across the Government Bridge and replace US 55 from Davenport to Dubuque.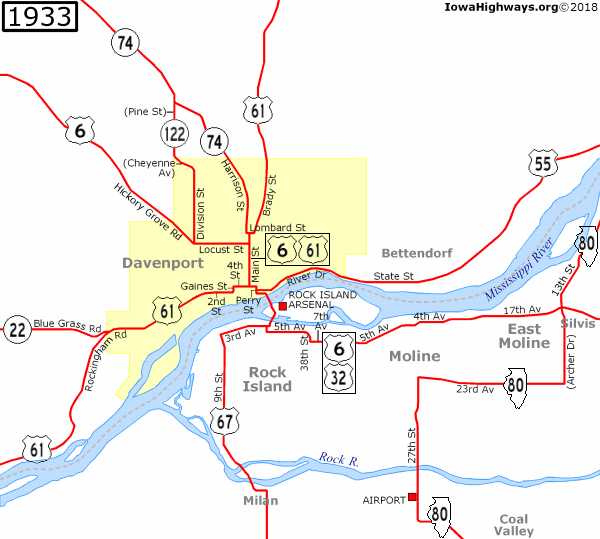 Plans for a new bridge between Bettendorf and Moline were discussed as early as 1912, when the Moline-Bettendorf Bridge Company proposed a bridge over the Mississippi but failed to raise the money needed to build one. Civic leaders renewed the idea in 1927 but the Great Depression put an end to those plans. On May 19, 1931, the city of Davenport agreed to build a new bridge between the two cities, even though the bridge was one mile east of the city limits, by establishing the Davenport Bridge Commission. Construction began in June 1934 and the Iowa-Illinois Memorial Bridge was dedicated on November 18, 1935. The bridge was financed by 15-cent tolls.

US 6 was rerouted after the Memorial Bridge opened, but the alignment along Locust Street, Bridge Avenue, 12th Street, Mound Street (in the Village of East Davenport), and River Drive was temporary until a new bypass to the north of the city was completed. The city's newspapers (the Democrat and Leader and the Daily Times) called it the "Belt Highway", a 1937 Rand McNally map called it "Beltline Road," and a Gousha map from that era called it "Pine Hill Road," "East 35th Street," and "Utica Ridge Road." However, when the road was dedicated on December 14, 1936, after opening on November 29, it was named "Kimberly Road" in honor of state senator D.W. Kimberly.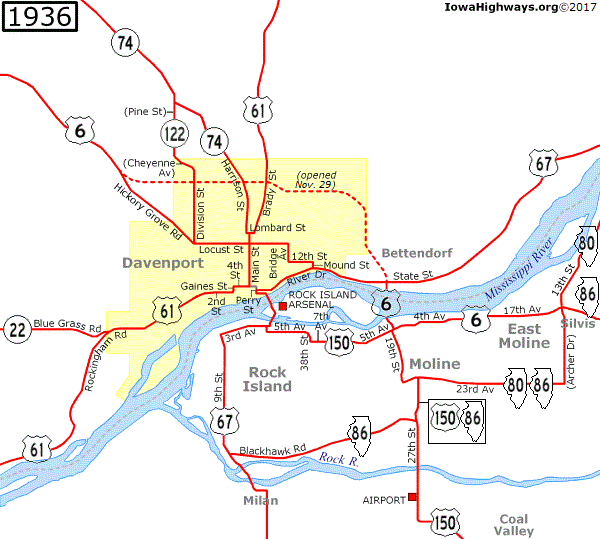 The Highway Commission did not officially route US 6 onto Kimberly Road until February 17, 1937. IA 74 was taken off Main Street and placed one block to the west onto Harrison Street at the same time, while US 61 was moved a block to the east onto Brady Street by the end of 1936. A city route for US 6, marked with yellow signs, was created in early 1936. According to the Davenport Democrat and Leader of February 27, the city route followed Main, 4th, Perry, and 2nd Streets to the Government Bridge. (However, a Highway Commission map from April 1 showing a reroute of US 67 onto Le Claire Street north of the bridge had City 6 running along 3rd Street instead.) The city route also provided a connection between US 61 and US 67 as the two highways would not intersect each other for another four years. Once Kimberly Road opened, City US 6 was extended westward along Locust Street and Hickory Grove Road, and by 1941, it would follow Brady Street, 4th Street, and River Drive into Bettendorf. (A side note: Perry Street, which once carried US 32/6 and US 67, no longer exists between 2nd and 4th Streets. The block between 3rd and 4th Streets was removed in 1982 to construct the RiverCenter, and the block between 2nd and 3rd Streets was removed around 1994 to make room for the RiverCenter's expansion.)

On November 27, 1936, the Democrat and Leader published a front-page story showing plans for a tunnel under the Mississippi River, connecting Western Avenue in Davenport (running east of Municipal Stadium, now Modern Woodmen Park) to 17th Street in Rock Island. The tunnel was never built, but in 1937, Rock Island mayor Robert Galbraith announced plans for a new bridge between Rock Island and Davenport. Originally known as the Galbraith Bridge (with the name even making it onto a Rand McNally map from that era), the bridge was renamed the Rock Island Centennial Bridge shortly before it opened on July 12, 1940. The Centennial Bridge, which was the first four-lane bridge to cross the Mississippi, was a toll bridge operated by the city of Rock Island. (Tolls were 10 cents until 1979, when they were raised to 15 cents; they were raised to 25 cents in 1981 and were 50 cents from 1991 until the bridge became toll-free on May 2, 2003. The bridge was rededicated as the Master Sgt. Stanley Talbot Memorial Bridge on July 17, 2017, in honor of an Illinois state police officer who died in 2001.) US 67 was rerouted when the bridge opened, and while the Government Bridge no longer carried any numbered highways, it remained the only free crossing between Iowa and Illinois until the Julien Dubuque Bridge in Dubuque became toll-free in 1954.

On June 10, 1941, the Democrat and Leader reported that US 150 would be extended across the Mississippi from Rock Island, replacing IA 74, as part of an effort to create a direct route between Minneapolis/St. Paul and Louisville, KY, that also included US 52. The same newspaper on September 2 reported that signing of US 150 would begin two days later, but the September 4 issue showed a photo of a Highway Commission worker putting up an Iowa 150 shield instead. IA 150 transitioned into US 150 at the beginning of the Centennial Bridge, but given the city of Rock Island's ownership of the bridge, any US 150 shields on the bridge likely came from Illinois.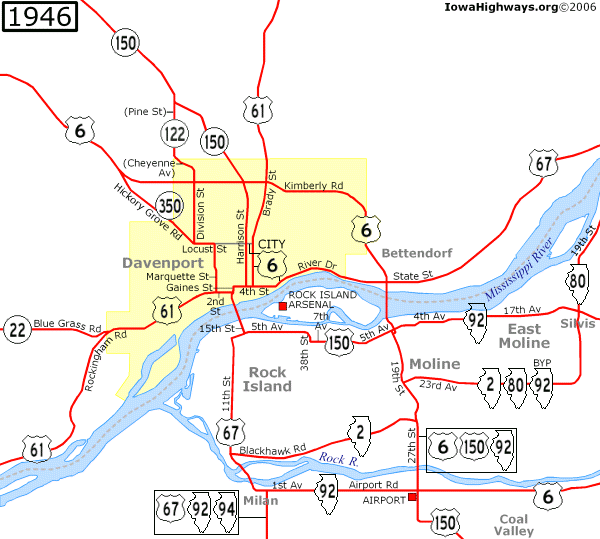 After the Centennial Bridge opened and IA 150 replaced IA 74, Davenport entered a period of stability as far as its numbered highways go. Seven months after 3rd and 4th Streets in downtown Davenport were converted to one-ways, a new four-lane US 61/67, following what used to be 1st Street but renamed River Drive, was completed on November 22, 1954. By 1955, City US 6 was placed along Brady Street and River Drive; it was gone altogether by the mid-1960s. By this time, as East Moline grew in population, the area that Davenport was part of became known as the "Quad Cities" instead of the Tri-Cities even though the Quad Cities name appeared in newspaper articles as early as the 1930s. (Bettendorf passed East Moline in population after the 1970 census and some began to call the area the "Quint Cities" as a result, but the name never caught on. Nonetheless, both Bettendorf and East Moline are technically part of the Quad Cities.)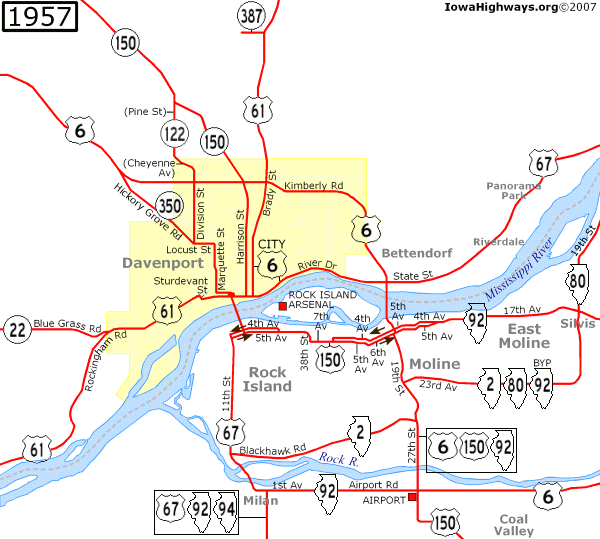 The second phase of the River Drive extension opened November 14, 1958, but less than a month earlier, US 61 switched routes with IA 22 between Davenport and Muscatine. IA 22 followed the Mississippi while US 61 followed a newly-paved road between Muscatine and Blue Grass. The Davenport Daily Democrat of December 31, 1958, called the $2.6 million River Drive extension the most expensive primary road extension in any Iowa city at the time. (A short piece of Blue Grass Road still exists near the folded-diamond interchange of US 61 and IA 22, but it dead-ends now.)

On June 22, 1956, President Dwight D. Eisenhower signed the highway act creating the Interstate Highway System into law. The Quad Cities area would be served by three Interstates: I-80, I-74, and I-280. This meant two new bridges across the Mississippi, and Iowa and Illinois agreed to build the I-80 bridge at Le Claire before they constructed the I-280 bridge in southwest Davenport. I-80 would run about five miles north of downtown and about two miles north of the city limits, but Davenport annexed large parcels of land in 1957 and 1958 as a way to bring the city closer to I-80. (The Davenport Chamber of Commerce referred to Davenport as "Iowa's second-largest city" in newspaper ads, but the 1960 census put Davenport in fourth place behind Des Moines, Sioux City, and Cedar Rapids.) With I-80's construction and Davenport's growth to the north, Kimberly Road would lose its role as a bypass, but the increased amount of local traffic led to its four-laning. By the end of 1983, Kimberly Road was four lanes wide east of Hickory Grove Road. IA 122 and IA 350 were entirely within Davenport's city limits after the annexations, and both became city streets by the end of 1960.

As congestion on the Iowa-Illinois Memorial Bridge became a problem in the 1950s, a second span was added to the "I-I Bridge" (as newspaper headlines called it) in November 1959. The new bridge also included an interchange in which some traffic exited onto Gilbert Street (one block south of State under the bridge) to get onto US 67 or US 6. An illustration of the new traffic patterns appeared in a Davenport Bridge Commission ad in the Democrat on December 31, 1959.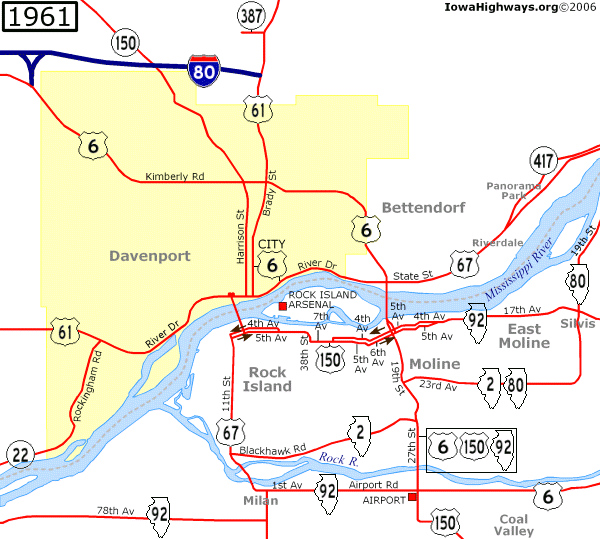 As the map above shows, I-80 was completed between IA 38 and US 61 on December 1, 1960. The east end of the first segment of I-80 was at an intersection with US 61, as the cloverleaf interchange would not be completed until 1963. Even though I-80 had opened from US 61 to US 67 at Le Claire on November 25, 1964 — one month after I-80 was completed east of Des Moines — I-80 traffic en route to Illinois was routed onto US 61 and US 6. As the Des Moines Register pointed out on October 22, 1964, "This is a 14-mile trip that is complicated by construction work in Davenport, two-lane road through Bettendorf, a shopping center junction, a stop at a toll bridge, a possible delay at a Moline train crossing, then Moline downtown traffic and residential area traffic before regaining the interstate. Last week this trip took one traveler 41 minutes." Relief came when the I-80 bridge at Le Claire (now known as the Fred Schwengel Memorial Bridge in honor of the former Congressman) opened October 27, 1966, to complete I-80 between Des Moines and Chicago.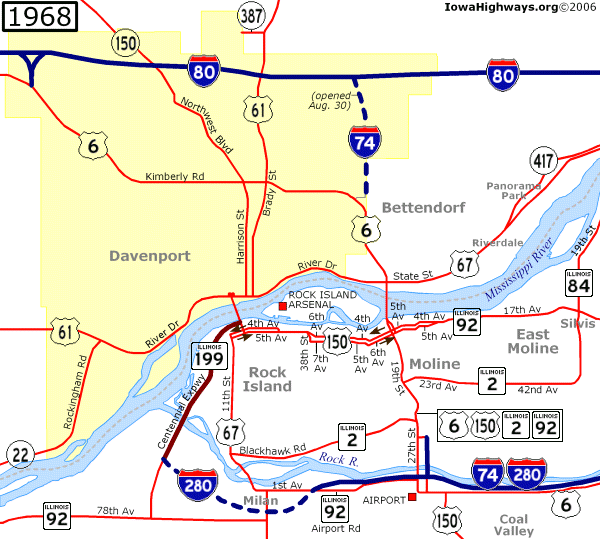 The only effect that the Great Renumbering of January 1, 1969, had on Davenport was the changing of IA 150 to IA 130.

Plans for a US 61 freeway connecting I-80 and the Centennial Bridge along the Gaines Street corridor were announced in 1964 but began to stall by the mid-1970s. In the meantime, on February 8, 1973, the city of Davenport converted Harrison and Brady Streets between Lombard Street and River Drive into one-way streets. The one-ways were supposed to be for a 90-day trial period, but the change went so well they decided to make the one-ways permanent. US 61 and IA 130 were co-signed along the one-ways. Later that year, on October 19, Bettendorf did the same with Grant and State Streets (US 67) through downtown.

Construction of Interstate highways in the Quad Cities was beginning to wind down during the first half of the 1970s. I-280 was completed in Illinois by the end of 1968, but the only segment in Iowa that was in use at the time was the Y-interchange that connected I-80 with US 6. On October 25, 1973, the new blue and gold I-280 bridge opened across the Mississippi along with the last segment of I-280 between US 6 in Davenport and IL 199 (the Centennial Expressway) in Rock Island. The bridge, which was repainted all blue in 2007, was renamed the Sergeant John F. Baker, Jr., Bridge in 2008 in honor of the local Vietnam War veteran who was the recipient of the Medal of Honor in 1966.

I-74's first segment opened August 30, 1968, between I-80 and Spruce Hills Drive on the Davenport/Bettendorf border. The second segment opened September 2, 1971, and with that US 6 through Bettendorf was moved from Kimberly Road onto I-74. Construction to connect I-74 with the existing Iowa-Illinois Memorial Bridge (which became toll-free at the end of 1969) began after that and would cause traffic problems as one of the two spans would close for long periods at a time. The bridge would not open to four lanes until November 26, 1974, when the interchange with Grant and State Streets was completed. (While the Iowa-Illinois Memorial Bridge was not officially renamed, locals began referring to it as the "I-74 Bridge" after that.) I-74 was still incomplete through downtown Moline until the last segment opened on December 10, 1975. According to the evening Quad-City Times of that day, the completion of I-74 through Moline completed the entire route between Davenport and Cincinnati — at least until a new segment of I-74 was signed in North Carolina in the 1990s. In recent years the increased amount of traffic on I-74 has led to Iowa and Illinois' Departments of Transportation to develop the I-74 Corridor Study. This plan calls for six-laning the entire corridor and replacing the twin suspension bridges with a new "basket-handle true arch" bridge. Reconstruction of I-74 began in 2011, when work to upgrade the 53rd Street interchange (which opened October 1, 1990) began. Groundbreaking for the new I-74 bridge took place in Bettendorf on June 26, 2017, with completion of the new bridge scheduled for 2021.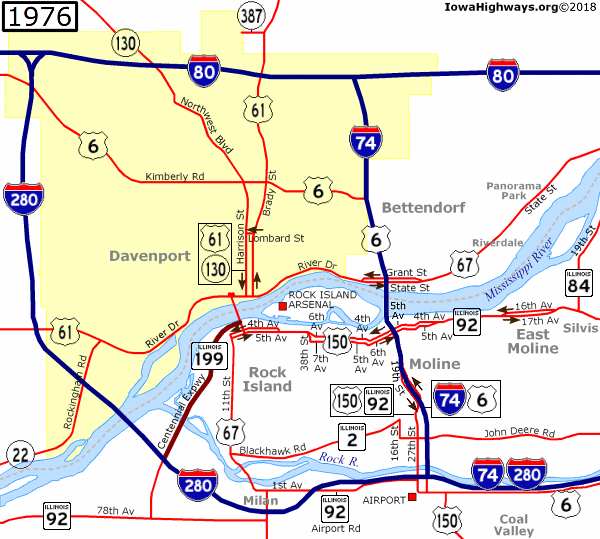 Even before the Quad Cities' share of the Interstate Highway System was completed, there was talk of renumbering them. When the last piece of I-280 opened, the Illinois DOT's director denied rumors of any highway renumbering. Then, in March 1976, the Iowa DOT planned a feasibility study to renumber I-80 as I-74, I-280 as I-80, and I-74 through Bettendorf and Moline as I-280 to alleviate safety concerns at the "Big X" cloverleaf interchange in Colona, IL. (As it stands, eastbound I-80 and westbound I-74 traffic has to follow cloverleaf loops in order to stay on those highways.) The Davenport Chamber of Commerce opposed the renumbering since it felt that it would decrease the amount of traffic and, as a result, leave many highway-related businesses along I-80 out in the cold. The Iowa Transportation Commission unanimously scrapped the renumbering plan on October 20, 1976, to the disappointment of the Rock Island Chamber of Commerce. The renumbering controversy flared up again during the early 1990s. In 1990, Illinois wanted to renumber I-280 as I-80S and I-80 as I-80N, but that request was denied since the American Association of State Highway and Transportation Officials would not approve any new suffixed Interstates. Then, in 1991, Illinois offered to renumber I-280 as I-80, I-80 as I-74, and I-74 as I-174. Iowa strongly disagreed after considering the potential negative impact to businesses along I-80, even going as far as to pass Iowa Code Section 314.16 prohibiting the Transportation Commission from changing I-80's designation as it existed on January 1, 1992. The case ended up going to the Federal Highway Administration, and on July 1, 1993, the FHWA denied Illinois' renumbering request once and for all.

While "Freeway 561" south of I-80 was killed by the Davenport city council in favor of an extension of the Harrison/Brady one-way system on September 4, 1975, the US 61 freeway between I-80 and US 30 in De Witt was completed on December 1, 1982. Even though a freeway between Davenport and Dubuque, which had Interstate aspirations in the mid-1970s, never became reality, four-laning of that corridor was completed in 1999. Meanwhile, a new southbound-only road opened on May 1, 1984, as Harrison Street became a southbound one-way south of this new road and Brady Street became a northbound one-way to a point between 53rd and 59th Streets. The southbound-only road was named "Welcome Way" in October 1989 as the winning entry of a contest.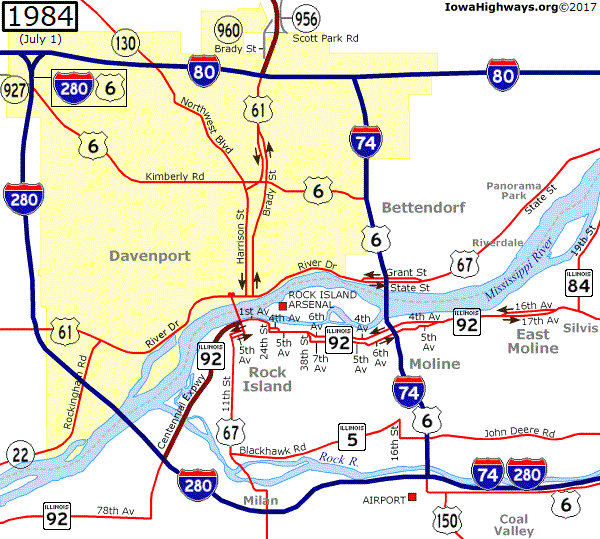 The decommissioning of IA 130 south of I-80 happened on December 3, 1984, according to the Iowa DOT's IA 130 legal description. IA 927 was signed from about 1989 until it and the unsigned IA 956 were decommissioned in 2003. (IA 960, a double dead-end created from the old Brady Street in the Mount Joy area, was part of the state highway system until 1986.)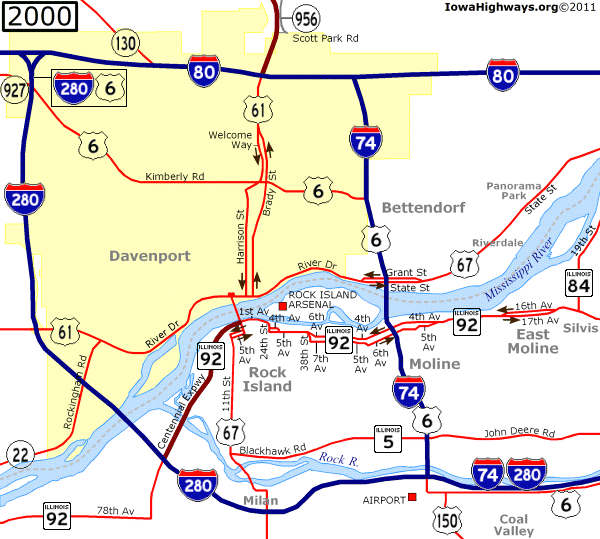 One minor change to US 67 happened in early 2004, after tolls were removed from the Centennial Bridge on May 2, 2003: northbound traffic leaving the bridge was moved from Gaines Street to 2nd Street and Western Avenue in order to eliminate the sharp turn onto Gaines.

On July 28, 2006, the Quad-City Times reported in this story that the Davenport city council was considering a reroute of US 61 onto I-80 and I-280, with the existing US 61 becoming Business US 61, as a way to route truck drivers around the city and the infamous "truck-eating bridges" near 5th Street. Plans for a reroute were approved by AASHTO in 2010 and appeared on the Iowa and Illinois transportation maps in 2011, but signs would not change until September 2011.