Overview
In the early days of automobile travel, Cedar Rapids was an important city on America's first transcontinental highway, the Lincoln Highway. The first paved mile of the Lincoln Highway in Iowa, the "Seedling Mile," was completed on a segment about halfway between Marion and Mount Vernon in 1919. The Lincoln Highway originally followed 1st Avenue through downtown Cedar Rapids and a series of city streets in Marion before heading southeast to Mount Vernon. In 1919, however, Marion lost the Linn County seat to Cedar Rapids, and paving of a new cutoff to Cedar Rapids along Mount Vernon Road was completed in 1921. In 2004 the Lincoln Highway Association published a booklet, The Seedling Mile in Linn County, Iowa, that describes how the Seedling Mile came to be. (It is available in PDF format here.)

When numbered highways came along in 1920, the Cedar Rapids area was given IA 6 (I) along the Lincoln Highway, IA 40 (I) along the Red Ball Route, IA 11 along the Mississippi Valley Highway, IA 13 along the Cedar Rapids-Ottumwa-McGregor Trail, IA 28 (I), and the original IA 94 for the old Lincoln Highway segment southeast of Marion. Since maps from this era are hard to find, some streets on this map are approximate. The streets on this map are based on the 1928 state highway map, which was done after many of these highways were renumbered. And for those unfamiliar with Cedar Rapids' street naming system, the Cedar River divides east and west while 1st Avenue divides north and south. It can get confusing when you consider the city's diagonal layout.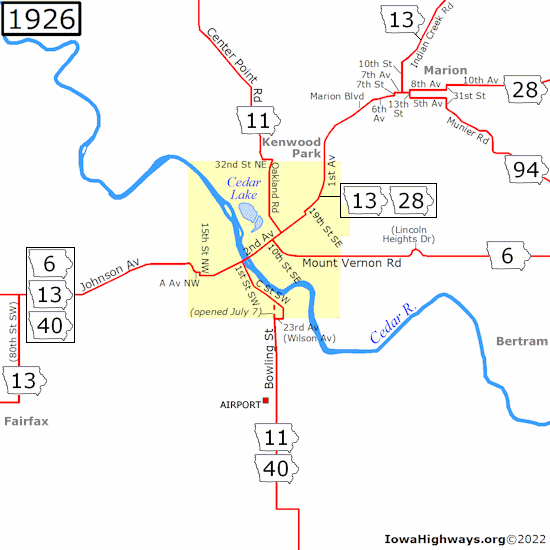 When signage of the US highway system was completed by October 16, 1926, Cedar Rapids found itself at the junction of the east-west US 30 and the north-south US 161. IA 11 was truncated south of 1st Avenue at Coe College. IA 13 was also shortened to end at Marion, and by the end of 1930 it was routed away from Marion altogether along a new paved road ending at US 161. The only highway that survived the renumbering unchanged was IA 94.

By 1934, US 30/161 was rerouted through the downtown area. Instead of following 1st Avenue all the way through, it turned onto 1st Street NE upon crossing the Cedar River, followed A Avenue NE across a railroad viaduct, and turning onto 10th Street NE near St. Luke's Hospital before turning back onto 1st Avenue. Traffic stayed that way until 1970, when the renamed US 151 was taken off the viaduct and moved onto 1st Avenue to create a more consistent route through the city. (Unlike A Avenue, though, 1st Avenue crosses the railroad tracks at-grade.) Also around this time, IA 11 was moved onto Center Point Road between 32nd and 13th Streets NE. (Center Point Road is now part of a one-way pair with Oakland Road, but that change was made after these streets were removed from the state highway system.)

IA 149, a former IA 13 segment south of US 30 that was IA 150 (I) for its first four years, was routed through Cedar Rapids when a new diagonal road now known as Williams Boulevard opened west of the split with 1st Avenue on October 7, 1934. (A 1934 map from H.M. Gousha placed the original route in the city along 1st Street SW, 5th Avenue SW, Rockford Road, and Wilson Avenue, but construction documents in the Iowa DOT's document library and newspaper articles from that era confirmed that IA 149 ran along Williams Boulevard and 1st Avenue west of 10th Street NW from the beginning. The Gousha map routing may have been either a map error or a proposed routing that was never signed.)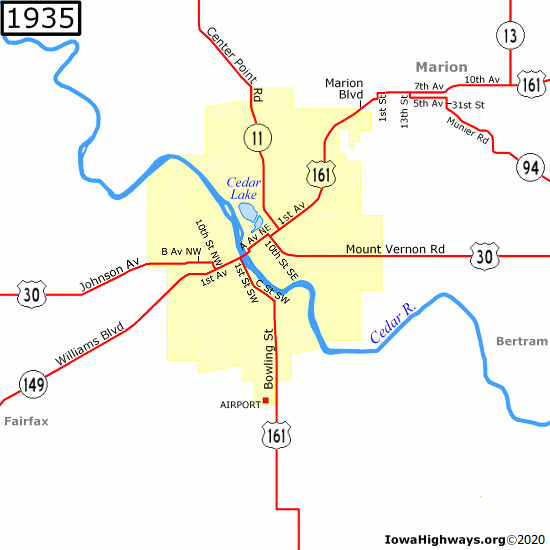 On January 1, 1938, US 161 was split into US 151 and an extension of US 218. While US 151 replaced US 161 north of the intersection of 1st Street and 1st Avenue East, US 218 followed US 30's route through the city when it was extended from its original south end in Benton County before replacing US 161 south of 1st Avenue. US 30/218 was taken off its old Johnson Avenue/B Avenue/10th Street NW alignment in 1938, instead following IA 149 to 16th Avenue SW. (There is no longer a direct connection between Johnson and 16th Avenues, as traffic has to use West Post Road between the two.) The rerouting created a "wrong-way" multiplex of US 218 and IA 149, which ran in opposite directions. In July 1939 the three highways were joined by IA 64, a east-west road from Council Bluffs through Des Moines and Cedar Rapids to Chicago. IA 64 was designated north of 1st Street SW in December 1936, following US 161 (later 151) through Cedar Rapids and Marion before splitting in Anamosa.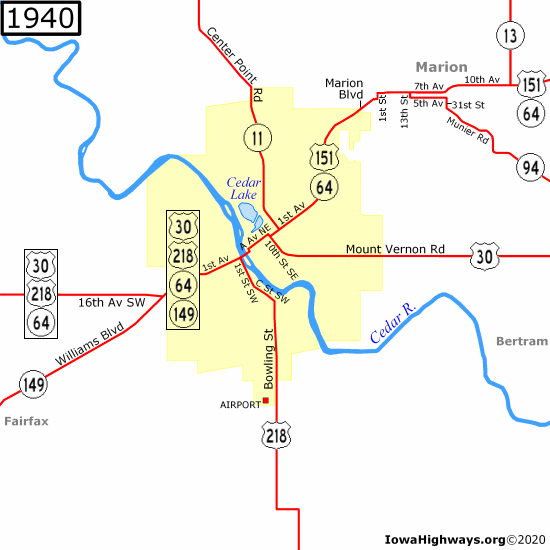 Sometime in 1940, US 30 and 218 were both taken off 1st Avenue. US 30 was put onto 16th Avenue SW, 2nd Street SW, K Street SW, and 8th Avenue SW/SE to Mount Vernon Road. (At least one map had it following 3rd Street SW one block west instead, but whether this was a short-lived routing or a map error is unknown at this point.) US 218 followed 16th Avenue SW to its previous alignment at C Street SW. US 151 was extended to the newly-relocated US 30/218 as a result. And what was intended to be an extension of US 150 from Rock Island, IL, became IA 150 in September 1941. IA 150 replaced IA 11 north of 1st Avenue, shared three blocks of 1st Avenue with US 151, replaced the segment of US 30 along 10th Street SE, and shared US 30 along Mount Vernon Road leaving Cedar Rapids before splitting at IA 38 in Stanwood. By 1945, IA 149 was extended across the Cedar River as well, ending at the intersection of IA 150. (Dale Sanderson found a 1945 photo of the local Waterloo, Cedar Falls, & Northern Railroad depot that confirms IA 149's triplex with US 151 and IA 64. After some research, I found that this depot was located at 10th Street and A Avenue NE, thus extending IA 149 across the Cedar River. The depot was eventually torn down to make room for St. Luke's Hospital expansion.)

The Iowa Highway Commission added several new highways to the Cedar Rapids area in the 1940s. In 1941, IA 74 was designated along E Avenue NW and a gravel road leading to Palo. (IA 74 moved to F Avenue in 1956 after the road to Palo was paved. A stub of the old IA 74, which dead-ends today, is now known as Vinton Road.) During World War II, IA 84 was designated along 6th Street SW en route to Cedar Rapids' new airport. And IA 381, a one-mile connecting gravel road between IA 84 and US 218, was added to the state highway system around the same time as IA 84, but that road was decommissioned in 1953.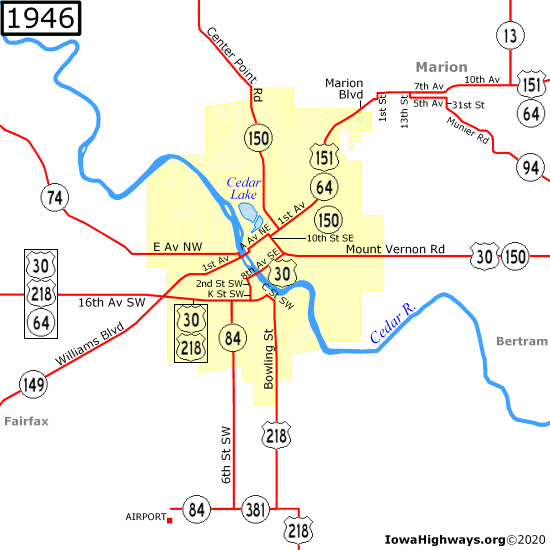 The highways of Cedar Rapids looked like this from the end of World War II until November 10, 1953, when a new 16-mile "cutoff" road opened between 6th Street SW and Lisbon. US 30 was removed from its old Lincoln Highway alignment and rerouted onto 6th Street SW and the new Waconia Avenue. The city renamed Waconia east of 6th as the Lincoln Freeway on November 3, 1976, to reflect its new four-lane status. (A Waconia Avenue still exists west of 6th, near the ADM plant.)

The opening of the "cutoff" also took IA 150 through downtown (sharing US 151 and IA 64) to 6th Street SW, joining US 30 and IA 84 (which was not extended or truncated) at 16th Avenue SW. Although articles in the Cedar Rapids Gazette and Mount Vernon Hawkeye-Record failed to mention any routing changes for US 218, that highway was also routed onto 6th Street SW at the same time, creating a four-highway multiplex. The redundant multiplex of IA 149 with US 151, IA 64, and IA 150 was removed west of IA 74 in early 1954; it was eventually truncated at US 30, leaving the north end of IA 149 at the same intersection as the south end of US 151: 16th Avenue SW and Williams Boulevard.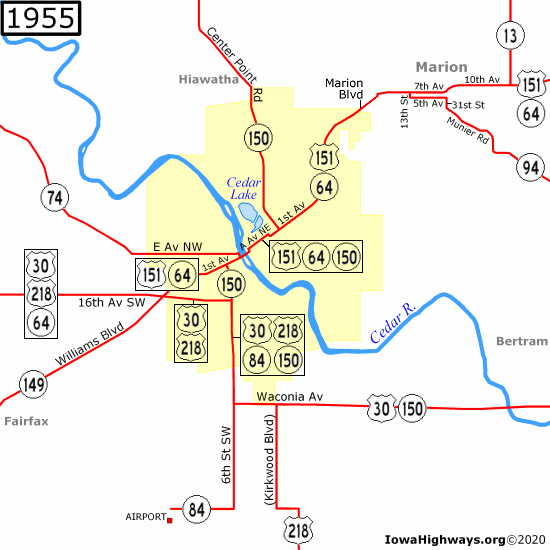 On November 1, 1956, US 218 was taken off Bowling Street (which was renamed Kirkwood Boulevard south of US 30 after Kirkwood Community College opened) and onto 6th Street SW as a new segment opened between US 30 and North Liberty. IA 84 was removed from 6th Street to become an east-west spur between the airport and US 218. IA 84 was decommissioned in 1980, and the road (now known as Wright Brothers Boulevard) was widened and realigned by the end of 2002 to make room for airport expansion.

The Highway Commission approved changes to IA 150 on October 14, 1958, and signs changed in November, according to reports in the Gazette and the Marion Sentinel. IA 150 was removed from downtown and relocated onto the new 50th Street NE (later renamed Collins Road) from Center Point Road past the Collins Radio (now Rockwell Collins) complex to 1st Avenue. From there it followed US 151/IA 64 (in another "wrong-way" multiplex with US 151 this time) and the original IA 94 through Marion before rejoining US 30 in Mount Vernon. The relocation left US 151 and IA 64 as the only highways to go through downtown, and US 30 and US 218 as the only highways on 6th Street SW.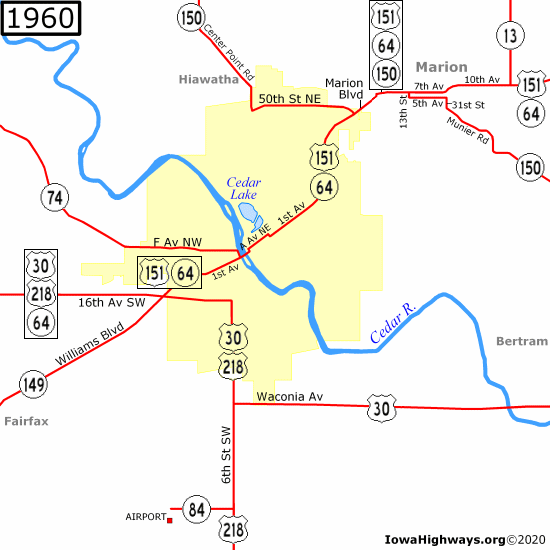 A new road between US 151 and US 30 was built in two phases during the 1960s with plans of becoming a four-lane bypass, something which didn't become reality until the turn of the millennium. The segment between US 151 and Mount Vernon Road opened in 1961, and IA 150 was rerouted through Marion via the existing US 151/IA 64. IA 13 was also extended southward, but it didn't turn onto Mount Vernon Road when IA 150 did. In 1965 the segment between Mount Vernon Road and US 30, which involved Linn County's first highway interchange, was finished. This segment became IA 150, which joined US 30 south of Bertram, while IA 13 was removed from the segment north of Mount Vernon Road (but not for long).

As construction of I-74 was about to begin in the Quad Cities area, IA 74 needed a new number, so the Highway Commission recycled an old highway number in the Cedar Rapids area — IA 94 — in 1966. It was around this time that IA 94 was rerouted onto one-way streets west of 1st Avenue, following 1st Street NW and F Avenue NW northbound and Ellis Boulevard, E Avenue NW, and 3rd Street NW southbound. (This change was never noted on state highway maps; a 1967 USGS topographical map was the oldest map I saw that showed this change.)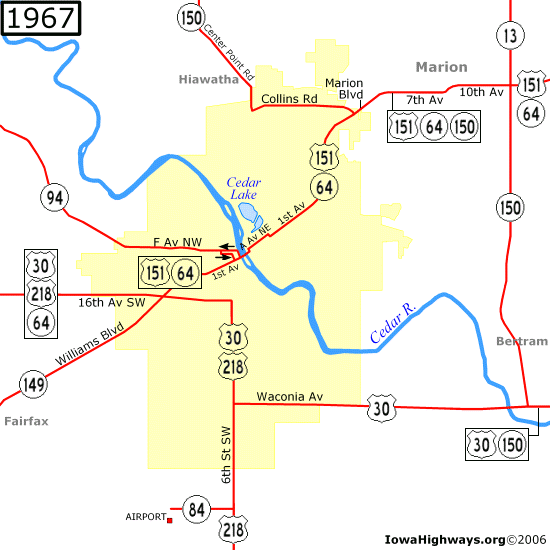 On January 1, 1969, the "Great Renumbering" took effect. IA 64 was removed from the city entirely as the west end was moved to US 151 on the east edge of Anamosa. IA 150 was truncated south of the intersection of 1st Avenue and Collins Road, and the north-south segment between US 151 and US 30 became an extension of IA 13. While one intent of the Great Renumbering was to remove lengthy highway multiplexes, Cedar Rapids no longer had one numbered highway between it and Des Moines or Davenport.

In the 1960 census, Cedar Rapids had overtaken Sioux City and Davenport to become Iowa's second-largest city and by 1970, Cedar Rapids had over 100,000 residents. However, when the Interstate Highway System was approved in 1956, Cedar Rapids was left off the system entirely as I-80 ran 20 miles south of the city. Plans for a north-south "Cedar Valley Expressway" were drafted during the 1960s, and when the federal government decided to add additional miles to the Interstate system in 1968, the Highway Commission submitted the Cedar Valley Expressway to the Federal Highway Administration as part of a planned freeway between Waterloo and Iowa City. The FHWA approved the addition of Interstate 380 to the Interstate system on December 13, 1968. The first segment of I-380 opened south of IA 84 on September 19, 1973, and by June 25, 1976, I-380 had reached the doorstep of downtown Cedar Rapids.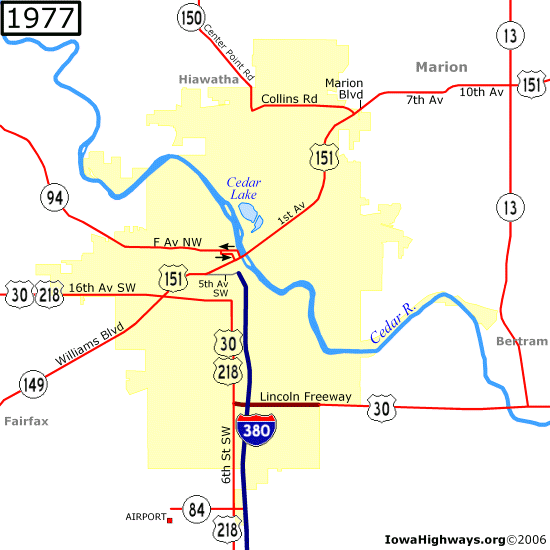 I-380 was extended across the Cedar River to 7th Street NE on July 11, 1979. While the two-deck 5-in-1 Bridge was dedicated that day, an article in that day's Gazette noted that the bridge had opened to E and F Avenue (IA 94) traffic before that — August of 1978, to be precise. Although the lower deck of the bridge is a two-way road, southbound IA 94 traffic followed the lower deck upon leaving E Avenue (a one-way) before turning onto 1st Street NE (another one-way) for a block before ending at 1st Avenue. Northbound IA 94 traffic was still routed onto 1st Street NW (a two-way) and F Avenue (a one-way) before the one-ways ended at Ellis Boulevard. Traffic still flows that way today even though IA 94 was decommissioned on July 1, 2003.

US 30/218 was taken off 16th Avenue and 6th Street SW when a freeway segment opened west of 6th Street SW on September 23, 1981. (Access to Stoney Point Road was removed after the freeway was extended from Stoney Point Road to 16th Avenue SW in 1986, as there is no interchange at Stoney Point today.) The old segment of US 30/218 was unsigned IA 941 until 1986, when it was turned over to the city. (Today, 16th Avenue is part of a one-way pair with 15th Avenue between 12th Street and C Street SW, but that change was not made until the current 16th Avenue viaduct opened in November 1984, three years after US 30 was relocated.)

I-380 was completed through Cedar Rapids on November 17, 1982. The segment that opened that day included a tri-level "volleyball" interchange that tied Blairs Ferry Road, a realigned Collins Road, and 42nd Street into the same I-380 interchange. IA 150 was then relocated onto I-380 between this interchange and the temporary north end of I-380 at Boyson Road in Hiawatha. (The old diagonal segment of Collins Road northeast of Center Point Road is now known as Dodge Road, which is home to some car dealerships. Dodge Road no longer connects with Collins Road, instead turning southward to become Ozark Street.)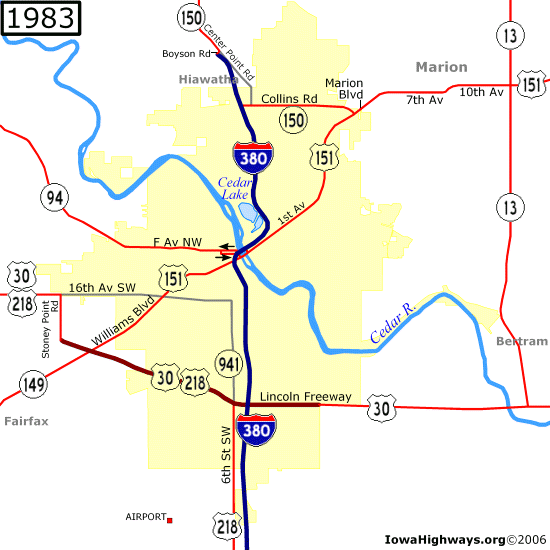 When I-380 was completed between Hiawatha and Urbana on August 14, 1984, IA 150 was removed from Cedar Rapids entirely. IA 100, which had been the working number for a proposed western bypass, was created along Collins Road, while IA 150 replaced the former IA 101 north of Vinton. Two other 900-series highways were created from former IA 150 segments in Linn County: IA 920 between IA 150 and the city of Center Point, and a short-lived IA 921 between Center Point and Hiawatha that became County Road W6E in 1985. The vision of an Interstate highway connection between Cedar Rapids and Waterloo became reality 13 months after that segment of I-380 opened.

US 218 was taken off 6th Street SW and put onto I-380 after a freeway segment west of Iowa City opened on June 26, 1985. The old US 218 between US 30 and US 6 in Coralville became Iowa's first signed 900-series highway, IA 965. On July 3, 1985, IA 100 was extended from I-380 westward to a half-interchange with Edgewood Road. (While Edgewood Road is not and never was a state highway, it appears on the maps below to show that IA 100 is not a dead-end.)

On September 19, 1985, the long-controversial Amana Road opened between US 6 at Homestead and I-80. This impacted Cedar Rapids as US 151 was extended from US 30/218 to I-80, replacing IA 149. As plans to build a US 151 bypass of Marion had also stalled, the DOT agreed to reroute US 151 along US 30 and IA 13 around Cedar Rapids and Marion on June 27, 1989. (While mile markers on the multiplexed segment with IA 13 belong to US 151, Linn County street signs and locals still refer to the road as "Highway 13".) The old route became Business US 151, but while Marion took over its share of US 151 and Cedar Rapids took over a short piece north of IA 100 on July 7, the segment between US 30/218 and Collins Road remains under state control as the unsigned IA 922. The rerouting also created the third "wrong-way" multiplex in Cedar Rapids' highway history, where southbound US 151 and northbound US 218 (and vice versa) share the same freeway segment with US 30.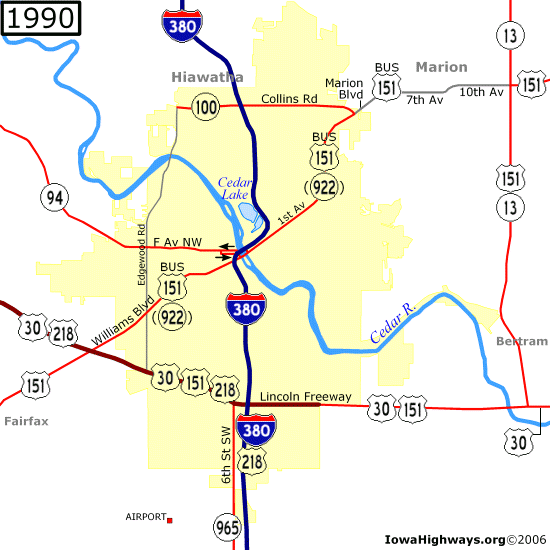 On August 1, 1990, the city of Cedar Rapids took over IA 965 between US 30 and 76th Avenue SW. Plans for Cedar Rapids to take over what was left of IA 965 — including a mile of the road in Johnson County (ending east of Swisher) — were approved by the DOT in early 2003, but concerns over a fringe area agreement between Cedar Rapids and Johnson County delayed the transfer of jurisdiction until September 1, 2004.

The Marion bypass finally opened on November 25, 1996, as an extension of Collins Road (IA 100) instead of US 151 as originally planned. Meanwhile, the idea of an IA 100 extension between US 30/218 and Edgewood Road was revived in 1998, but budget and environmental issues concerning the proposed crossing at the Cedar River near the Rock Island Forest Preserve delayed the project for over a decade and a half. Construction finally began in the spring of 2014, with the first segment between Edgewood Road and County Road W36 (the former IA 94) opening December 15, 2016. The segment from there to US 30/218 is expected to open by the spring of 2019.

Legislation that took effect July 1, 2003, removed IA 94 from the state highway system. The only other change to Cedar Rapids' highway system in recent years was the addition of IA 27, the number the DOT gave to the Avenue of the Saints in 2001, as a second number to I-380.